Messi's family friend calls out Pique for lying, accuses him of being 'envious'
Much has been made of Gerard Pique and Lionel Messi's fractured relationship in the Spanish media over the past couple of years.
The Argentine superstar is reportedly not on talking terms with the Barcelona skipper, with the latter apparently playing a key role in instigating Messi's departure from Camp Nou last summer.
The tension between Messi and Pique appears to grow further with each passing day and it took a new turn this week when one of Messi's family friends called out the Barcelona defender on Instagram.
"Pique you're so fake. Not only did you not cry (when Messi left). You told the mediocre Laporta that if he wanted to build a winning team, he needed to sell Messi.
"That same Messi that saved you from Zaragoza when nobody wanted you," he wrote on his Instagram story.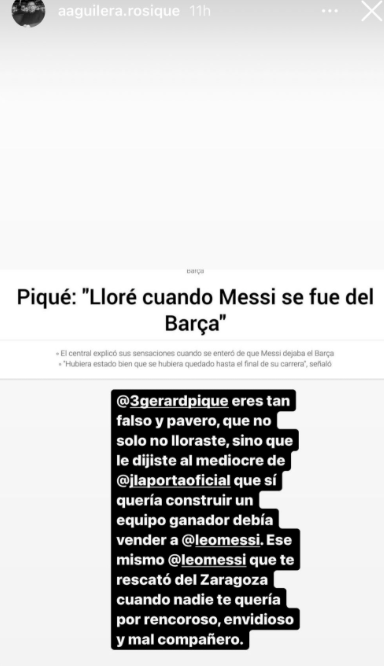 Messi's family friend seems to refer to Pique's loan spell to Real Zarazoga during the early stages of his footballing career. He joined the club on loan during 2006/07 but after an unimpressive spell, he was lucky enough to rejoin Barça in the summer of 2007.
Messi is perceived to have played a vital role in convincing Barcelona to re-sign the defender from Manchester United. And while the duo has won countless titles together in Catalonia, they have drifted apart in recent years.
Adding to his slander, the family friend called Pique: "Rancorous, envious, and a bad teammate".
The social media post only adds to what has been a disastrous year for Pique so far, with the defender being subjected to fierce criticism over his involvement in the Supercopa deal.
Recent reports have further revealed how the Barcelona dressing room had called him a "traitor" two years ago, shortly after his contract extension under the previous president Josep Maria Bartomeu.
What did you think of this article?
Poor
Good
Excellent
Whoa... We're sorry! Thanks for the feedback.
Well, we will do our best to improve!
Thank you! Glad you liked it.